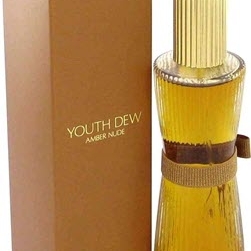 Description
Tom Ford says he :took the original Youth Dew fragrance, and changed it slightly'. The topnotes are freshened up by ginger and grapefruit. The powerful floral, spicy heart of the original has been highlighted with a black rose note. Smooth woods replace the strong original woody notes. And amber balms melt with dark chocolate, that replaces vanilla.
At a glance
When Tom Ford revisits Estée Lauder's first fragrance
History
Youth Dew Amber Nude is the first collaboration between designer Tom Ford (Gucci, Yves Saint Laurent) and prestige brand Estée Lauder. 'With this fragrance I've taken Estée Lauder's existing vocabulary and tried to reduce it to its purest, most iconic form, making it fresh, modern and contemporary. (...) My goal was to take the glamour, the history, the quality and the spirit that is Estée Lauder, and work within that to create a collection for today' says Tom Ford. The fragrance, that comes with a limited edition make-up collection is a sophisticated update that reflects the designer's startling and sensuous vision of beauty.
Range
Eau de Parfum 2.5 oz ; Solid Perfume (limited edition).
Bottle
A design that is very close to the original. Fine flutes were added to express the new minimalism of Tom Ford. The classic nipped waist tied with a gold ribbon, has been updated with an amber-colored ribbon.
Be the first to comment this fragrance! Register or login to comment.