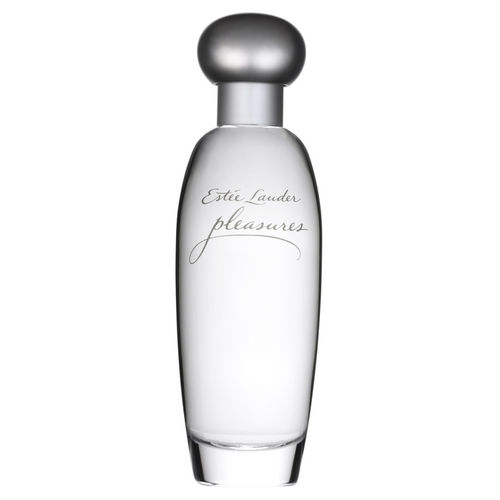 Description
The top note contains an essence of pink berries, a first in perfumery, (pink pepper) - a first in perfumery - creating a bright and cheerful impression.The middle note comes bursting with a green floral bouquet of lily, peony, lilac, lily of the valley and rose.The fruity-musky end note, typically American, harmonizes opulence and lightness with sandalwood and patchouli.
History
An easy-to-wear perfume that deliberately sets itself apart from the rest of the brand's fragrances.Pleasures meets the expectations of the new millenium as it is designed to suit ''every woman in every season and at every moment".A perfume of private nature for a return to the pleasure of scent and that of simplly taking time for oneself.A great floral perfume that appeals to all nationalities, the fragrance reached the top ten of American perfumes in the year of its launch.
02 october 2012

Estée Lauder Pleasures is the quintessential modern feminine fragrance. Its scent notes suggest an entire bouquet of flowers - lily, violet, lilac, rose, peony, jasmine - that is grounded with a sandalwood and patchouli drydown. This sheer fragrance may be worn year round, and is appropriate for any occasion.

Report abuse

http://www.sniffapalooza.com

Karen Adams is the executive operations manager of Sniffapalooza. This international, event-based organization for fragrance enthusiasts was created...