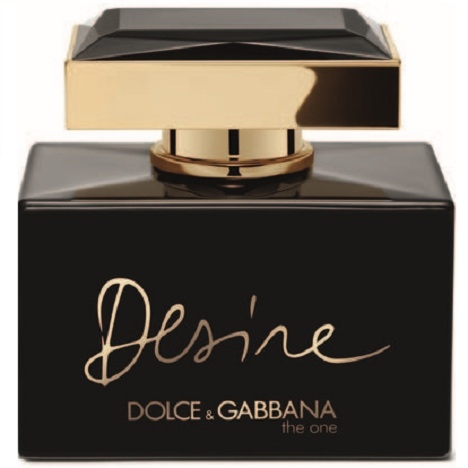 Description
The One Desire opens with citrusy notes (bergamot, mandarin orange) and lychee. The heart is floral at first, with tuberose intertwined with lily and jasmine, then goes fruity with plum. The trail is warmed up by a woodsy-balmy duo of sandalwood and labdanum, before being sweetened with vanilla and caramel.
At a glance
The pure expression of desire
History
Desire is the latest entry in Dolce & Gabbana's The One collection. This floriental's name comes from Domenico and Stephano's inspiration: 'everything starts with desire.'
Range
Eau de Parfum 1, 1.7 and 3.4 oz.
Bottle
The 'The One' saga's signature bottle has been revisited in black and gold, with the word "Desire" inscribed in gold letters.
30 august 2013

Il y a déjà eu 2 ou 3 versions différentes de the one. Celui-là, ils l'ont fait noir. C'est le même flacon ou presque. La différence est principalement dans le capot. Ca évoque une pierre taillée, de l'onyx ou une tourmaline noire. La marque a associé l'or et le noir : c'est un vieux code bien connu du luxe. L'association du flacon et du mot 'Desire' me fait penser à une femme qui s'habillerait d'une robe noire pour sortir, avec ses bijoux, et pourquoi pas un gros pendentif. C'est un parfum assez gourmand, mais l'aspect du flacon ne m'aurait pas dit gourmand. J'aurais imaginé une senteur beaucoup plus florale, opulente, classique. Pour moi, avec ce type de flacon, je verrais plutôt le parfum pour une femme mature, une femme Femme. Pas une jeune fille.

Report abuse

http://www.agenceaio.com/

Marc Touati est créateur de flacons de parfums. Issu d'une famille d'ébéniste et de tapissier-décorateur, il a dès sa jeunesse une...