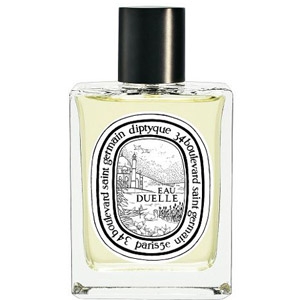 Description
The fragrance opens with a fresh, spicy note of juniper, cardamom and pink pepper, for what could be called a gin-&-tonic effect. 'Firnat' vanilla brings a sweet, powdery tonality to the heart, which is offset by paradisone (a type of hedione, a fresh, slightly floral note). The trail is sweet and slightly smoky thanks to an alliance of French vanilla and vetiver. Composed by: Firmenich.
At a glance
A fresh and spicy vanilla
History
With Eau Duelle, Diptyque revisits vanilla. The perfume is part of the vogue for 'chic', (i.e. not-overly gourmand) vanilla scents that focus on highlighting vanilla's other facets. Eau Duelle de Diptyque takes your senses on a journey around a vanilla that is 'dry', but no less sensual. Vanilla, the key to the fragrance, is paired with notes of cold spices. Eau Duelle is a unisex scent that show the duality between the vanilla and the spices, but also that between men and women.
Range
Eau de Toilette 1.7 and 3.4 oz.
Bottle
The transparent, rectangular bottle is adorned with a black-and-white label, which is graced with a drawing evoking an Oriental palace surrounded by a river. The bottle is topped with a round, black cap.
21 april 2013

une vanille pour les beaux jours. Sans aucune lourdeur, épicée, boisée et poudrée, elle est à essayer pour les addicts de parfums orientaux qui voudraient troquer leurs parfums capiteux d'hiver pour quelque chose de plus léger tout en restant dans un registre sensuel et enivrant.

Report abuse

http://mybluehour.blogspot.com/

Passionnée de parfum depuis l'adolescence, j'ai pourtant entrepris des études de droit puis de journalisme. C'est lorsque j'étais...