Description
A trail of iris, unveiled through an aromatic opening (sage, lavender), a powdery heart (wrapped in cocoa and amber) and a woody finish (vetiver, patchouli).
At a glance
Between classicism and modernity, an iris fragrance for men.
History
A year after Cologne Blanche, Bois d'Argent and Eau Noire – created in collaboration with stylist Hedi Slimane – the House of Dior is launching a major new men's scent christened Dior Homme. In a bottle with an architectural aesthetic, this essence offers a neo-classical trail composed around iris. A very rare note in men's fragrances, it delivers a woody, powdery floral scent. A manly iris garbed in patchouli, amber and cocoa.
Range
Eau de Toilette, 1.7 and 3.4 fl. oz.; After Shave Lotion, 3.4 fl. oz.; Moisturizing After Shave Gel, 2.5 fl. oz.; Shower Gel, 5 fl. oz.; Deodorant Spray, 5 fl; oz.; Deodorant Stick, 2.6 oz.
Bottle
A pared-down bottle of minimalist, but obvious, luxury. The thick block of glass contains a pale amber juice with a tube of steel plunging through it.
Advertising of the fragrance Dior Homme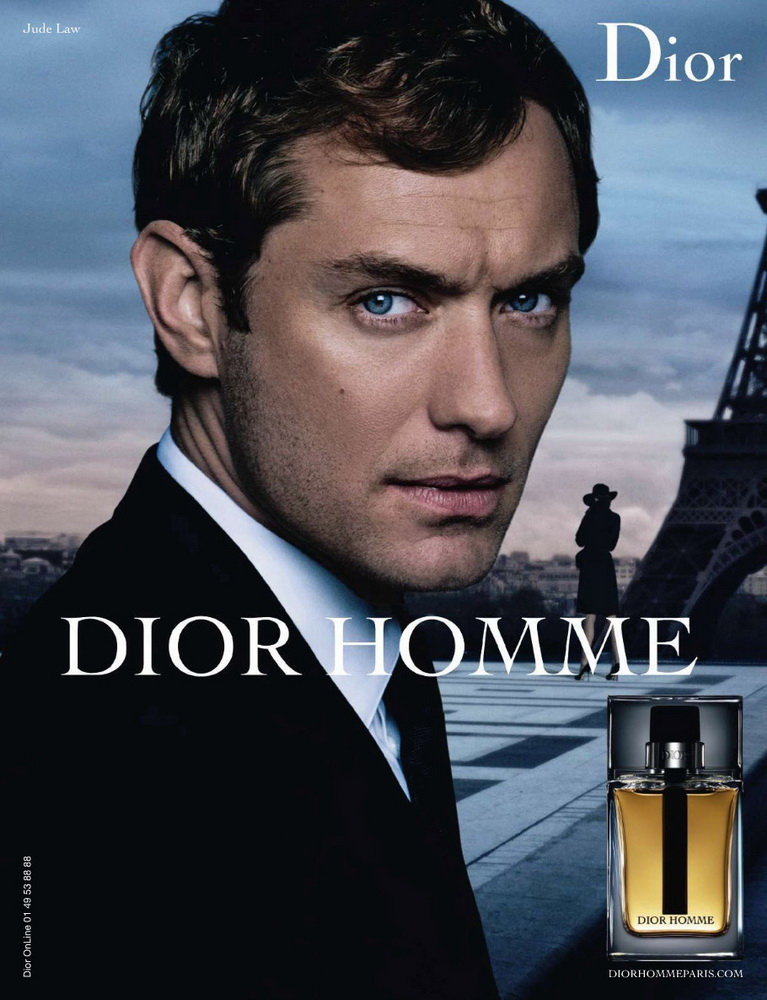 www.imagesdeparfums.fr
With the kind permission of the brand
29 june 2013

No matter if a fragrance is described as masculine or feminine : if you like it, do not hesitate to wear it. There are plenty of women who like Dior Homme and its iris note. It's a sublime masculine scent that can easily be worn by a woman. Eau Sauvage, too, was appreciated by women, because at this time there was no equivalent in women's perfumes. It was the possibility for them to escape a very floral trend. Today with niche perfumery, the male / female boundaries are less present. And for me, raw materials don't have a gender...

Report abuse

26 october 2012

Gostei da reformulação, gostei da nova cor e do novo frasco. Achei que o perfume amadureceu um pouco!

Report abuse

http://perfumenapele.com

Quando criança, brincava com frascos vazios de Phebo imaginando ser perfumista. Apaixonou-se de verdade por perfumes quando ganhou de uma vizinha...

02 october 2012

Qui aurait pu imaginer qu'un sillage poudré pour homme puisse plaire aujourd'hui, si ce n'est un visionnaire ? Déjà acteur des très poudrés Bois d'Argent et Eau Noire, le styliste Hedi Slimane a signé là un parfum qui colle à son style. Cassant les codes classiques de la parfumerie, il a osé l'iris pour homme en surdose, et bien lui en a pris. Cuir, vétiver, lavande, sauge, et notes gourmandes de cacao ambré dans un parfum que j'imagine inspiré par l'univers des matières nobles comme la laine et le cuir, taillés avec une coupe actuelle. Beau, ciselé, même ajusté aujourdhui par François Demachy, il sait garder sa personnalité propre. A l'époque, une belle audace, qui reste encore aujourd'hui parmi les meilleures ventes.

Report abuse

http://www.olfactorum.blogspot.com

Passionné de parfums depuis très longtemps, formé depuis 2003 aux matières premières chez Cinquième Sens, Thierry effectue ses gammes pendant...