Description
Three designers collaborated to concoct this new fragrance: Carlos Benaïm, Dominique Ropion and Olivier Polge. Together they created a delicate, generous and bright spark, reinventing the olfactory sensations of jasmine and orange blossom. Gardenia, amber and sandalwood bring the finishing touches to this fragrant new creation.
At a glance
Sensual, fresh and fascinating. Pure Poison, a perfume of pure seduction
History
Pure Poison is a modern fairy-tale. In the very attractive campaign – the fruit of the meeting of the minds of designer John Galliano and photographer Jean Baptiste Mondino – Dior has updated 'Beauty and the Beast' for our times, with glamour and fascination. Twenty years ago, Dior introduced 'Poison', a legendary perfume of femininity, desire and power that takes no prisoners. Today, with Pure Poison, this house of luxury is offering women a magical new elixir. Fresher and softer, it will be a good-luck charm for temptresses who are generous, sincere and… pure.
Range
Eau de Parfum, 1, 1.7 and 3.4 fl. oz.; Scented Shower, 6.8 fl. oz.; Scented Moisturizer, 6.8 fl. oz.; Deodorant Spray, 5 fl. oz.
Bottle
Purity, light and intensity. The Poison bottle has been reinterpreted in an iridescent white shade with holographic reflects. Touches of purple crop up in the name and cap.
Advertising of the fragrance Pure Poison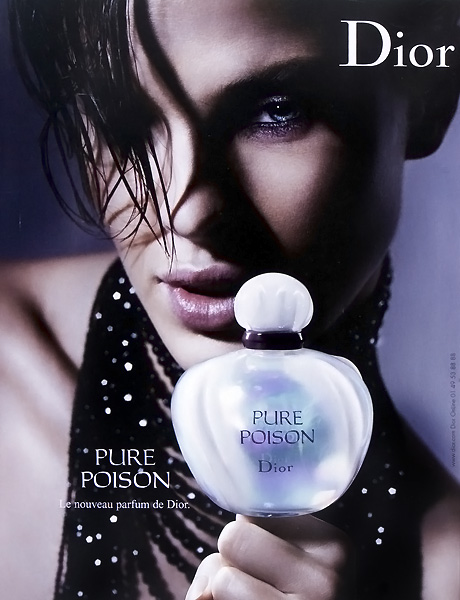 www.mes-parfums.com
With the kind permission of the brand
04 november 2012

A melhor parte de Pure Poison para mim é que ele tem uma presença fria e distinta, que o difere dos outros Poison. Embora ache que ele não deveria ser um flanker, ele é um perfume interessante e atemporal, dispensando modismos.

Report abuse

http://perfumenapele.com

Quando criança, brincava com frascos vazios de Phebo imaginando ser perfumista. Apaixonou-se de verdade por perfumes quando ganhou de uma vizinha...