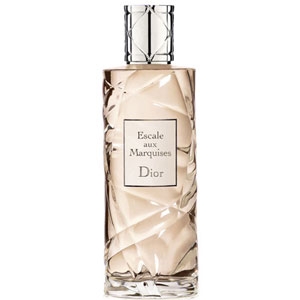 Description
The fragrance opens on fresh citrusy notes: a sensation that hangs on for quite a while, even as the scent evolves. A few dazzling spice notes bridge the citrus to the gentle floral (neroli, freesia) note that comes next. The tiare is gentler and more salicylic than truly heady or monoi-esque. The sweet, slightly balmy base can create a sense of the beach in summer, or of sun-warmed skin.
At a glance
Imaginary Polynesia
History
Escale aux Marquises is the third fragrance in Dior's 'Escale à… ' (Stopover in) Cruise Collection. After the citrusy freshness of Portofino (Italy) and Pondichery (India), this third stopover – still in the citrus family, but with a tea tonality – aims for greater sophistication. Tiare flower is the perfume's keynote. Still, like its predecessors, Escale aux Marquises has a decidedly citrusy theme that is sure to please women who love colognes. The juice is sweeter, thanks to a very diluted tiare note, but it has been enriched with gently solar facets that evoke a sense of sun-warmed skin. A far cry from the exotic floral or opulent amber that the name and the ingredients listed (tiare flower, vanilla, citrus, spices and benzoin) might have led us to expect. Nevertheless, the result is a pleasantly fresh and sunny eau, in a more refined presentation than its forerunners.
Range
Eau de Toilette 2.5, 4.2 et 6.8 oz.
Bottle
A cylindrical bottle with a silvery cap, both with an engraved wicker pattern.
Be the first to comment this fragrance! Register or login to comment.