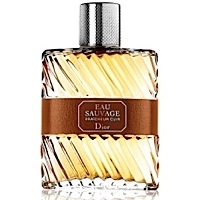 Eau Sauvage Fraîcheur Cuir
Description
At the opening, Sicilian lemon brings a citrussy freshness. The jasmine-like hedione heart is shaded with woody notes of cedar. The base keeps the chypre structure, while garbing it in 'an ambry leather accord (…), male, but not animalesque'. The fragrance, originally designed by Edmond Roudnitska, has been reworked by François Demachy, the house fragrance at LVMH.
At a glance
Seduction, gentleness, effervescence… in a very Dior limited edition
History
41 years after Eau Sauvage, Dior presents Eau Sauvage Fraîcheur Cuir (Eau Sauvage Leather Freshness). The pure and chic codes of the original fragrance are still present, as is the bottle's streamlined design. The distinguishing characteristic: the strap wrapped around the bottle reveals a leather look. A theme that crops up again in the trail, garbed in an ambry leather note and treated with freshness. A soft leather tonality 'as supple as a pair of kid gloves'. Limited edition.
Range
Eau de Toilette 3.4 fl. oz. Limited edition.
Bottle
The only change in the Eau Sauvage bottle: the silver strap now features a fauve tone and a leather look.
Be the first to comment this fragrance! Register or login to comment.