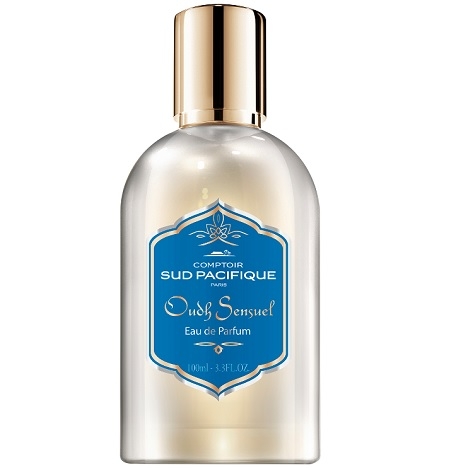 Description
Oudh Sensuel opens with floral notes dominated by 'a powerfully velvety rose.' The heart goes spicier, thanks to saffron. In the trail, oud reveals its oriental-woody warmth. Perfumer: Emmanuelle Juilliart, Sozio.
At a glance
A fragrant voyage to sensual Arabia
History
Lush and woody, Oudh Sensuel is a fragrance in the Voyages en Orient collection. With this scent, Comptoir Sud Pacifique stops off in Arabia. A blend of oud wood, rose and spices, Oudh Sensuel instantly transports you to 'the heart of Scheherazade's 1,001 nights.'
Range
Eau de Parfum 3.4 oz.
Bottle
The cylindrical, lacquered-glass bottle comes in a blue case adorned with Ottoman-inspired patterns.
30 june 2013

En 2013, le oud a toujours du succès ! La marque Comptoir Sud Pacifique en propose d'ailleurs plusieurs. A découvrir aussi pour les fans de cette note : la collection Oud Mood de Francis Kurkdjian. Trois fragrances subtiles où le oud est associé à chaque fois à une étoffe.

Report abuse

28 may 2013

Yes to the saffron, but no because of oud.

Report abuse

18 may 2013

voyage au cœur des milles et une nuit ..... il nous transporte au Moyen Orient avec beaucoup de chaleur, de force, avec ses épices et la rose.........

Report abuse
30 june 2013

En 2013, le oud a toujours du succès ! La marque Comptoir Sud Pacifique en propose d'ailleurs plusieurs. A découvrir aussi pour les fans de cette note : la collection Oud Mood de Francis Kurkdjian. Trois fragrances subtiles où le oud est associé à chaque fois à une étoffe.

Report abuse