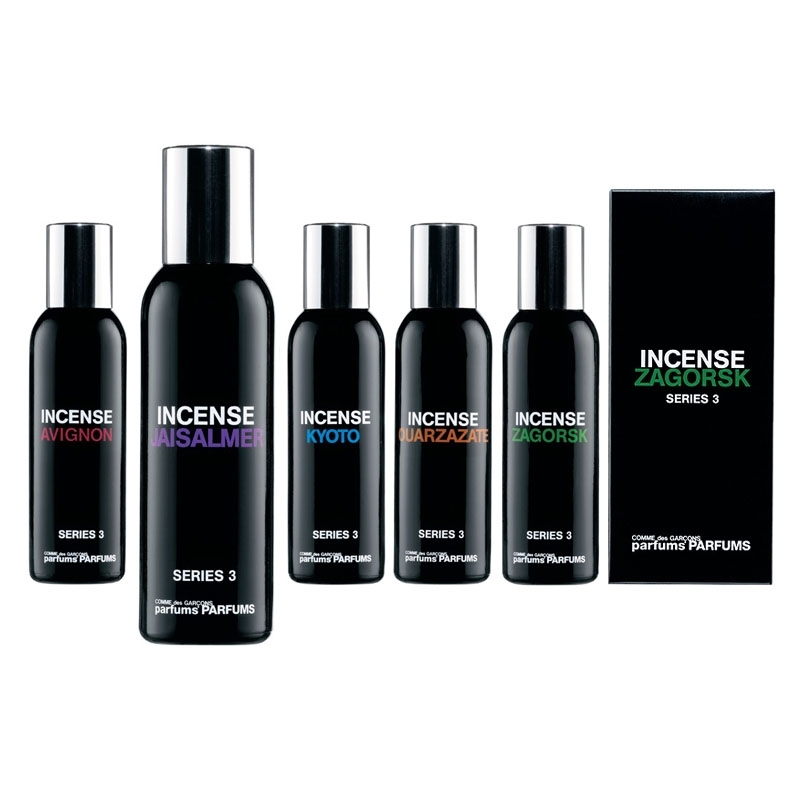 Description
Series 3 comprises five fragrances: AVIGNON: Frankincense wrapped in Roman chamomile, rockrose, elemi, vanilla, oriental woods and ambrette. JAISALMER : Frankincense wrapped in cardamom, cinnamon, benzoin, pimento, gaiac wood and ebony. KYOTO: Frankincense wrapped in vetiver, teakwood, coffee, cypress, amber and immortal blossom. ZAGORSK: White frankincense resonates with pine, violet, pimento, iris and cedar, beech and hinoki woods. The following pyramid is for OUARZAZATE, with its scent of North African incense.
At a glance
A journey through the fragrant world of incense.
History
The third fragrant series from the creative and eclectic brand Comme des Garçons. Launched in 2000 with Leaves, followed the next year by Red, the series continues with 'Series 3- Incense'. All five creations bear the names of cities, inaugurating a spiritual journey around incense. There's Jailsamer, Kyoto, Zagorsk, Avignon and Ouarzazate. Look for them in selected points of sale.
Range
For all 5 essences : Vap 50 ml.
Bottle
All the fragrances in Series 3 have a cylindrical black bottle topped with a metal cap
Be the first to comment this fragrance! Register or login to comment.