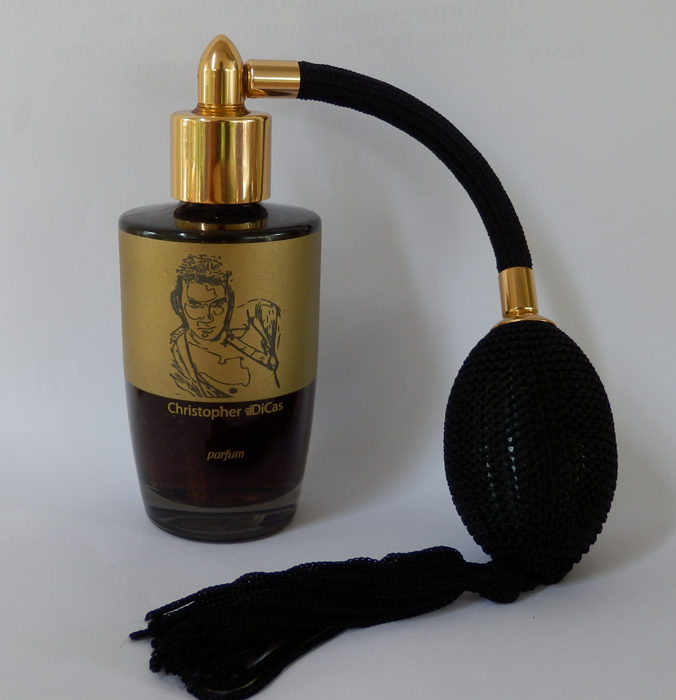 Christopher DiCas - Extrait du parfum
Description
An exotic bouquet of sensual accords such as basil, French lavender, wormwood, sage, bamboo, magnolia and Cretan iris give a complex start, yet simultaneous a cool and sweet feeling. The multifaceted heart of the fragrance is based on rare wood essences and flowers. Grapefruit, ginger, Atlas cedarwood and sandalwood come alive with a touch of cardamom. Then an intoxicating notes of Hedione elixir, cloves and lentisque wrap the whole blend. Lentisque is a highly aromatic ingredient, cultivated on Chios island, known for its beneficial effects but also for its sweet, rich aroma. Base notes : dry essential oils extracted from tobacco, oak moss and dapne leaves, are mixed with soft leather and cashmere. Finally, patchouli and vieux (a fine essential oil aged for over five years in oak barrels until it develops a rich, velvety personality and sensual musk, manufactured in Egypt and considered the best musk in the world). It is a highly expressive aroma, a fragrant note that evolves over time and shapes its own aromatic footprint.
History
Christopher DiCas is a stunning, oriental woody aroma that assaults the senses. A mixture of vintage, floral, spicy aromas and woods. An elixir whose unusually high content is a blend of strength and softness. A scent born from creative expertise and talent. Just a few drops will express its endless power. A flavor whose brutish yet refined charm evolves in its own special way, on each kind of skin. The fragrance reveals its uniqueness, like a trademark that stands out from the rest. It is known that the oud is a real challenge, because it can have multiple interpretations in a composition. Each perfumer has his own oud fragrance, his own vision. "The Christopher DiCas extrait is a modern, oriental oud… very sensual, sensitive and touching." Says Christopher DiCas. In the continuous search for the most noble materials, Christopher DiCas himself brings together excellent ingredients. These are produced in the Mediterranean area, where the mysterious alchemy of soil and climate create unique qualities. Today only a few of the very large perfume houses enjoy the luxury of using these precious and rare raw materials.
Range
1.7 oz
Bottle
A drop suspended in a world of glass. The sweet, golden liquid scent of Christopher DiCas accommodated in a prestigious lekythos, symbol of his roots . Ancient Greeks would put perfumes in such lekythos as part of a ritual. With Christopher DiCas, each and every aroma is a ritual. As a corollary, the shoulders of the bottle are highlighted with metal, for a refined look. The 'night elegance', adorned with silkscreen bearing the company logo and the name of the perfume. A drop of flavor seems to be floating inside the glass and makes for quite a complex bottle, designed by George Iliadis.
04 november 2017

I definitely want to try this one. The pyramid is wild with some of my favorite notes included. I especially like the bamboo, ginger, cloves, tobacco, leather, grapefruit, and oakmoss oh my! I love the bottle too. Chocobo hunting.

Report abuse

20 november 2015

I wish they played with more lavender.

Report abuse

20 october 2015

Quel est le réseau de distribution ?

Report abuse
Be the first to comment this fragrance! Register or login to comment.