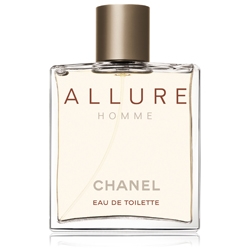 Description
The four facets take turns expressing green freshness, lively pepper, the woody strength of cedar and vetiver, and the smooth sensuality of labdanum and tonka bean.None of these facets attempts to outshine the others: the whole point of allure is about not needing to shout to be heard.
History
What is ? An indefinable trait that somehow makes a world of difference. Regardless of fashions and gimmicks, it is "fascination revealed in the eyes of others".Allure Homme tells the story of a brave, generous and free-spirited person with the unmistakable allure of a real man.This trailblazing scent unleashes a wave that manages to be fresh, sensual, breezy and lingering all at once. Like its female counterpart, the secret of Allure Homme lies in these four facets.
Bottle
The bottle bears a noticeable likeness to the woman's version, though the shape is squarer and sturdier.The sober black-and-white advertising refuses to cater to traditional stereotypes, showing instead a series of anonymous faces reflecting the subtle diversity of "allure" -- that intangible quality that makes some people's personalities stand out.
Be the first to comment this fragrance! Register or login to comment.