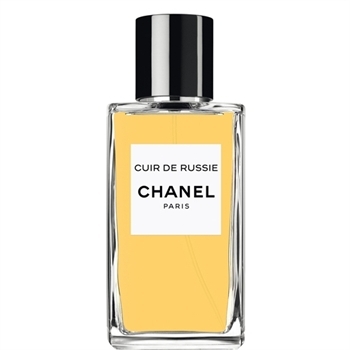 Description
The fragrance reveals 'fruity zests of mandarin orange and bergamot' underscored by a bouquet of 'eternal flowers: rose, jasmine and ylang-ylang.' 'Dark, animalic balm scents,' are paired in the drydown with notes of leather, tobacco, frankincense and cade wood. Perfumer: Ernest Beaux.
At a glance
Smoky whiffs of Russia
History
Created in 1927 by Ernest Beaux, a Moscow-born and -trained perfumer, Cuir de Russie gets its inspiration from Beaux's native land. It is redolent of the world of the Imperial guard, the 'smoky animalic' smell of their wild rides over the steps and their 'boots of birch-bark-tanned leather.' In 2007, Cuir de Russie entered the Les Exclusifs collection of rare fragrances sold exclusively at Chanel boutiques.
Range
Eau de Toilette 2.5 and 6.8 oz.; Extract 1/2 oz.
Bottle
A slender bottle with spare lines.
09 january 2013

En parfumerie, il y a plusieurs cuirs. Les 'cuirs tannés', le parfumeur les créait avec 2 ingrédients : l'écorce de bouleau et les notes animales. C'était une belle note fumée. Aujourd'hui, on utilise l'huile de cade, qui a également un côté fumé. Mais il y a aussi des cuirs plus clairs, on parle aussi de 'cuirs blancs'. Pour cela, on crée un accord suede / daim, qui est moins animal. On peut également utiliser d'autres notes fumées comme le bois de gaïac. Et nous avons également une molécule au parfum cuiré : l'isobutyl quinoléine. Pour ma part, j'ai aussi utilisé un nature print (headspace) d'un cuir d'une Jaguar.

Report abuse