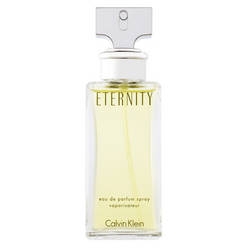 Description
It starts off on a fresh and slightly citrussy note, followed by a middle note of rosy violet and lily of the valley. The spicy carnation gives the perfume a peppery nuance. Smooth and gentle, it ends on a note of powdery heliotrope and rosy sandalwood with a lingering hint of musk.
History
Eternity reflects the return to family values that marked the eighties in the United States. It's a perfume that symbolizes fidelity. Calvin Klein designed Eternity as a tribute to his marriage. It has been among the top ten on the international sales charts in the last ten years. The black and white color of the advertising suggests timelessness, a style that has since been reproduced by a number of brands.
Bottle
The pure and minimalist bottle, a typical trend of the nineties, was also a forerunner of the new and less ostentatious style in perfumery.
Advertising of the fragrance Eternity for women

In partnership with Images de Parfums
With the kind permission of the brand
30 august 2013

Eternity for Women was perhaps the first mass-market fragrance with a preponderance of Iso-E Super to mark the public in such a profound way. The spicy angle of the aromachemical in relation to violet notes and a rose heart made for an almost carnation piquancy which was at the same time very clean (to coincide with the AIDS-phobic era) and room-clearing if you overdosed. It's not hard to see why it became such a huge trend.

Report abuse

http://perfumeshrine.blogspot.com/

Elena Vosnaki is a historian and writer, the founder and editor of Perfume Shrine, one of the most respected independent online publications on...