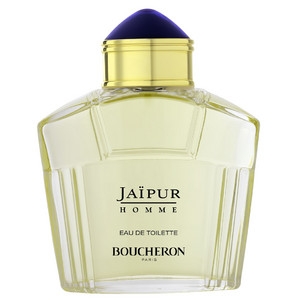 Description
The fragrance is built on two complementary accords:one is fresh and sensual with the elegance of heliotrope and bergamot, enhanced by amber and vanilla; the other is spicy with cinnamon, cloves, musk and tonka bean.
History
Jaïpur Homme evokes Louis Boucheron's voyages to India in the 1920s. 'Jaïpur Man' is a pioneer who enjoys adventure. Inventive, in search of harmony, there is nothing ordinary about the Jaïpur man.
Bottle
Inspired by the famous astronomical garden of the maharajah Jai Singh II, it is arch-shaped and stands out with its powerful harmony. Its proportions are precise and the material (steel) is noble.
15 june 2013

Jaïpur pour Homme un parfum oriental épicé, mais pour moi il a également un aspect très frais, très floral au travers de l'œillet, et des notes lavandées, qui donneraient ainsi presque une facette fougère ambrée. Parmi les épices on perçoit surtout la cannelle et la cardamome. Si je devais travailler le thème « Inde », je surdoserais les épices, notamment la cardamome, accompagnée de cumin et de coriandre, et pourquoi pas d'un peu de safran, qui se mêleraient au jasmin et au bois de santal.

Report abuse

http://www.cecilezarokian.com

Cécile Zarokian est parfumeur-créateur indépendant. Elle élabore des fragrances dans son laboratoire de création parisien situé près du Canal...