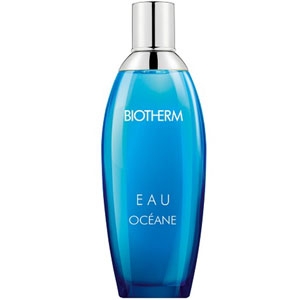 Description
Biotherm's Eau Océane opens with citrusy notes paired with a molecule that smells like water: transluzone. In the heart, a salt-water accord blends with floral notes of jasmine. For even more freshness, the perfumer added sea-breezy tonalities of paradisone (a sort of hedione) and cascalone. The trail reveals aquatic, woodsy and musky notes. Perfumer: Fabrice Pellegrin, Firmenich.
At a glance
Sea-water spa in a bottle
History
After Eau Vitaminée, Eau d'Energie, Eau Pure and Eau de Paradis, Biotherm unveils a fifth fragrance in their 'eaux collection' of scents that make you and your skin feel good: Eau Océane. In its navy-blue bottle, the fragrance offers women a chance to forget their worries and travel towards 'the hidden powers of the ever-moving ocean.' A blend of aquatic, floral and sparkling notes, the perfume aims to tone and revitalize in order to 'recreate the blissful sensations you feel at the seashore.'
Range
Well-being eau 3.4 oz.; Moisturizing Jelly 6.8 oz.; Shower Foam 6.8 oz.
Bottle
The signature bottle for Biotherm's eaux collection has been revisited in blue-and-silvery hues.
27 march 2013

En parfumerie, pour réaliser un accord aquatique, on a souvent recours à la calone, et à des molécules proches comme la cascalone. En notes marines naturelles, on peut utiliser en petites touches des extraits d'algues. La mousse de chêne a également des effets iodés. Pour réaliser un accord aquatique, on peut aussi avoir recours à des notes de fruits d'eau, comme le melon. Il existe par ailleurs des matières premières qui possèdent à la fois des facettes florales et humides. Dans Eau Océane, hormis le caractère aquatique, on ressent également des facettes hespéridées, fleurs blanches. Mais aussi un effet musqué et salicylé, qui se rapproche de l'ambre solaire.

Report abuse

www.parfumdempire.fr

D'origine corse, né au Maroc, Marc-Antoine Corticchiato est entouré de plantes à parfums dès son plus son âge. Il s'intéresse tout...