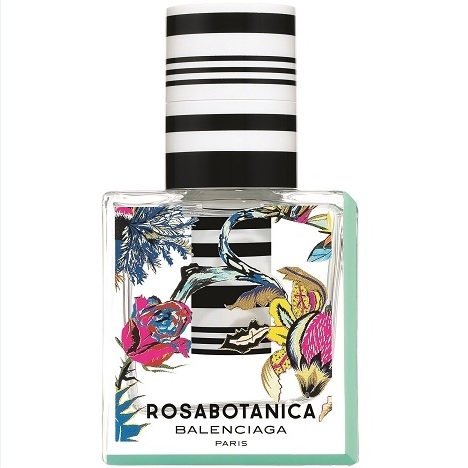 Description
Pepper and citrus fruits grant Rosabotanica a spicy opening, which is tempered with fig leaf. The heart of the perfume is composed around rose, hyacinth and cardamom. Blond woods and amber intertwine in the trail. Perfumers: Jean-Christophe Herault and Oliver Polge, IFF.
History
After Florabotanica in 2013, comes Rosabotanica, inspired by a 'very botanical, enchanted and spicy' rose. As Balenciaga puts it, this creation corresponds to a spontaneous and emotional woman with an aura of radiance. The square bottle is graced with drawings of brightly colored exotic flowers and is topped with an imposing black-and-white striped cap.
Range
Eau de Parfum 1, 1.7 and 3.4 oz.
01 march 2014

I smell a lot of rose - it is a honeyed rose. It has also a fresh facet with some aromatic note like basil and mint... something fairly unisex. I think that all fragrances should be unisex. There's also certain powderiness to this perfume and a woody facet possibly with cedar woodnotes. It's a perfume that will appeal to people of many ages. To me, it's more playful than classical.

Report abuse

http://www.neelavermeire.com/

Born in India, Neela Vermeire lives and works in Paris, after having lived in India, USA and UK. Neela is a qualified lawyer, but her passion for...