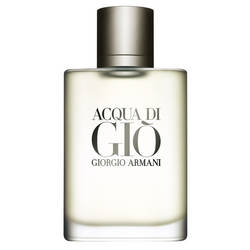 Description
Tangy rosemary-tinted citrus scents mingle with salty aquatic notes and aerial flowers (hedione).A sharp persimmon note adds a touch of sparkling color to the woody aromas of labdanum and cedar, with their warm musk undertones.
History
Giorgio Armani gets inspiration for both his men's and women's scents from the isle of Pantelleria, where he spends his vacations.This Eau de Toilette is an invitation to escape to sunny, sandy horizons: the call of freedom. Acqua di Gio: a voluptuous rush of wind and water, brilliantly combining sweet and salty flavors, with the bittersweet power of of sea water on sun-drenched skin.For the contemporary man seeking his true self and harmony with nature, in a quest for genuine, unaffected beauty.Acqua di Gio has the color of sunlight.
14 september 2012

Acqua di Gio, c'est le soleil et la classe à l'italienne dans un parfum. Sur la structure héspéridée et aromatique d'un grand classique italien des années 70-80, où le soleil des agrumes, la lavande, l'origan et une structure légèrement chyprée étaient d'un chic incomparable et très en vogue, Alberto Morillas a su trouver un accord 'bouquet floral' tel qu'on le sent chez le fleuriste... Un accord tellement frais et nouveau avec l'hédione et la calone, qui fait d'Acqua di Gio une sorte d'Eau Sauvage des années 2000. Un grand classique qui prouve que les notes florales peuvent aussi trouver leur place dans un masculin.

Report abuse

http://www.olfactorum.blogspot.com

Passionné de parfums depuis très longtemps, formé depuis 2003 aux matières premières chez Cinquième Sens, Thierry effectue ses gammes pendant...