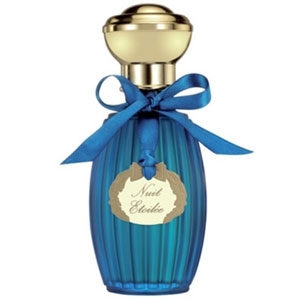 Description
Nuit Etoilée ('Starry Night') starts with sparkling notes of citron and orange. The heart blends Siberian pine and balsam fir with intense waves of peppermint. The drydown goes warm and spicy thanks to angelica, tonka bean and immortal blossom.
At a glance
An olfactory escapade at nightfall
History
Annick Goutal presents Nuit Etoilée l'eau de toilette: a unisex fragrance inspired by Camille Goutal and Isabelle Doyen – the two designers' – 'late-night escapades in the most pristine of environments.' This aromatic, woody and spicy fragrance proposes a moonlit stroll through an enchanted forest… a perfect spot to get back to nature, and to feel calm and serene.
Range
Eau de Toilette 3.4 oz.
Bottle
The fragrance is presented in a frosty-blue glass gadroon bottle topped with a golden medal cap and graced with moiré blue taffeta. Also comes in a rectangular version for men.
02 october 2012

En tête, le contraste entre les notes fraîches où dominent la menthe et les notes boisées résinées chaudes est vraiment évocateur du début de la nuit : lorsque les pins encore chauds exhalent toutes leurs richesses, tandis que du sol s'élève une brume de notes aromatiques accompagnant les étoiles qui s'allument. Mais Nuit étoilée me semble avant tout un hymne au merveilleux fir balsam, ce bois chaud, suave, aux accents fruités, presque confits, accompagné par les baumes, l'immortelle et un accent de réglisse, noir comme la nuit.

Report abuse