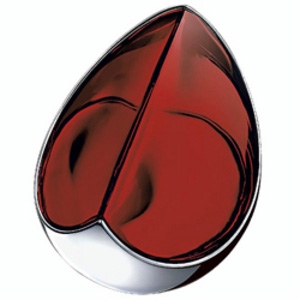 Description
Sparklingly feminine, the fragrance was built around rare and exotic sandalwood essence. After a fresh and luminous opening, the heart offers a provocative contrast between rose, jasmine and erotic essences of cumin and ginger. Finally, notes of vanilla and myrrh turn it into a mysteriously bewitching juice.
At a glance
Kingdom, the first woman fragrance by the creator Alexander Mc Queen
History
Kingdom, straight from the creator's extraordinary imagination, is a fragrance created to evoke sensuality and sexuality. It aims to describe women's private world, when no men are present. Like the perfume, the nakedly entangled bodies in the ad's visuals evoke emotions of sadness, joy, serenity and melancholy. The couturier wanted to show women's vulnerability and fragility. "We should want to live and love without compromises, open our hearts, discover our most private emotions, run the risk of getting hurt sometimes," says the designer.
Range
Eaux de Parfum , 1.7 and 3.4 fl. oz., Perfume 5/6 fl. oz.
Bottle
A metal-and-glass heart, combining the ultra-modern with gothic romanticism.
Be the first to comment this fragrance! Register or login to comment.