Hello I am Violet
bronze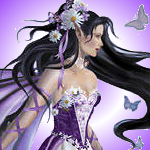 I have 445 OSMOZ points and I am registered since 2013-01-19
Dicen que una imagen vale más que mil palabras, pero si hay algo que nos transporta en el tiempo es un olor. Los perfumes evocan más recuerdos que cualquier sonido, palabra, imagen, nombre... Hay olores que se recuerdan por siempre, de ahí mi pasión por el mundo del perfume.
I currently wear at least 5 fragances
I anoint: On my wrists / arms, On my neck, On my cleavage/chest
I have fragrance I use for everyday wear and another one for special occasions, I wear different fragrance, depending on the season, I wear different fragrances depending on whether I stay at home or go out, I like to...
I wear: EAU DE ROCHAS fraîche, PAR AMOUR TOUJOURS, Ô de Lancôme, AMOR AMOR, Fleur Défendue
I apply fragrance: 5-6 days per week
I buy fragrance: Less than once a year
29
Perfumes