OSMOZ magazine
THE ALCHEMIST ATELIER
03 may 2020
BEHIND THE SCENE OF PERFUME CREATION
In partnership with The Alchemist Atelier, Osmoz introduce you a new concept of bespoke perfumery. Dedicated to perfume lovers, this new perfumery concept is aimed at people who want to learn the art of composing their fragrance. This technology invites you to live a truly personalised scented experience...
THE SCENT CREATOR
Who never dreamed of having their own perfume in a few minutes? Thanks to the Scent Creator, a nomadic olfactory technology accessible to all, artists, musicians, chefs, decorators or chemists, will be able to develop their olfactory fields. From home, enter the era of a new, bespoke perfumery that is accessible thanks to this innovative 4.0 perfumery system installed in your living room, library and living space.
« Our ambition is to introduce all those who desire it to the art of creation, to make the know-how of the nose finally accessible, so that everyone can reveal the talented composer who sleeps in itself! »
How does it work? Connected to your application, installed on your smartphone, The Scent Creator will identify your scented profil through your digital composition. The information is sent and distilled by him in few minutes thanks to the cartridges installed in his integrated laboratory. By assembling the accords and notes of your formula to the drop, your fragrance comes to life in front of your eyes in the form of a 5ml trial dose. If it suits you, a 20 ml bottle will be delivered as a signature perfume! Go to the shop and book your workshop...
A NOMAD LABORATORY
Who has never dreamed of owning a perfume workshop at home? Today, The Alchemist Atelier has 8 models of Scent Creator design and trendy. A black or white wooded finish dresses this stylish object and settles into the heart of your interior. Give yourself the opportunity to create a perfume to your image according to your mood of the day and your desires.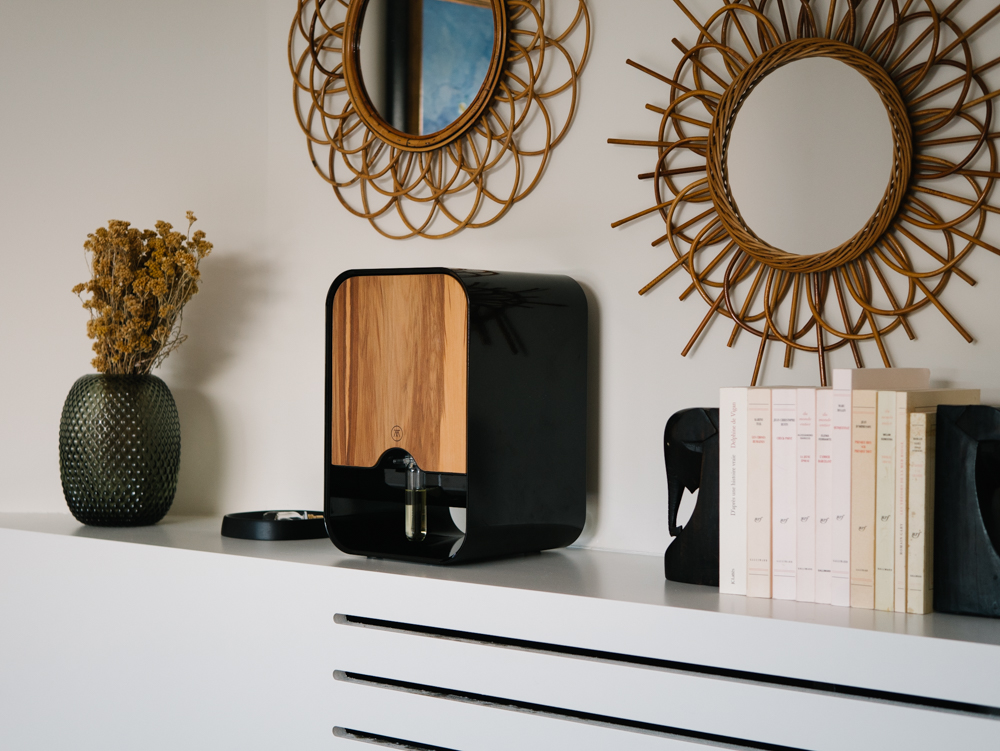 Start the adventure by downloading the app to your smartphone to save your profile. A playful and didactic tool to discover your olfactory profile according to the raw materials that correspond to you.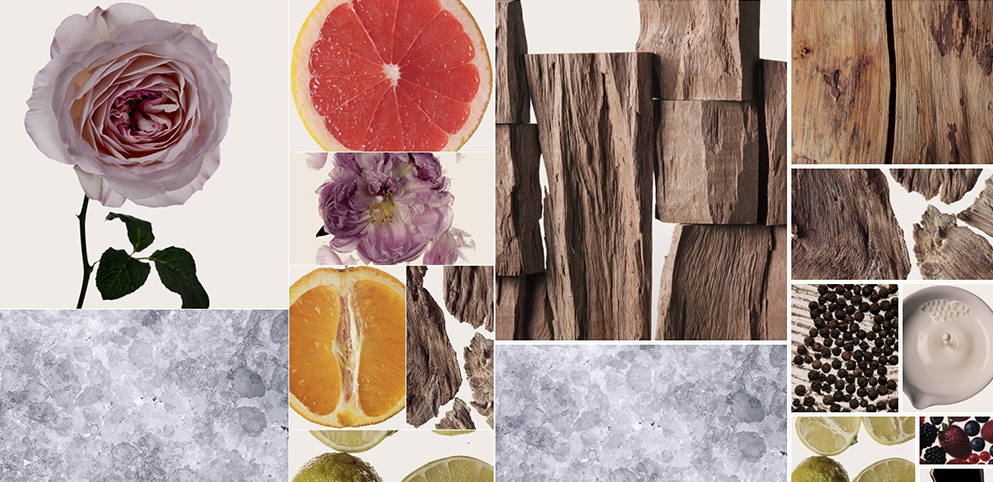 Available app on Itunes or Google Play
Bergamot, Jasmine, or Oriental-Vanilla, let yourself be guided by the accords and bases that make up your imagination. In the skin of an alchemist, discover the digital perfume organ according to your olfactory thoughts. Cut grass, white musks, grapefruit, cedar wood, the perfumer's palette is simplified to introduce experts, amateurs, or neophytes to the art of composing a fragrance. At this stage, the step of your creation is carefully recorded in your online perfumery. A perfume revolution occurs when at the olfactory pyramid in the form of an instagramable mood board presenting the key ingredients of your formula!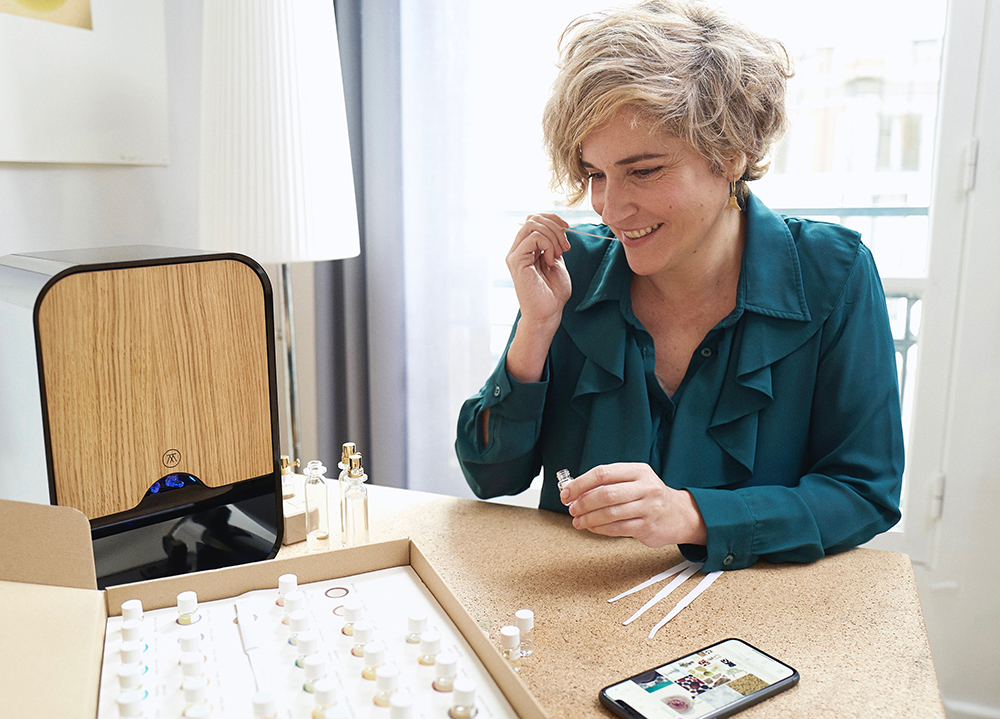 Price €350. This price includes a private discovery workshop of 1:30 hour and access to a hotline available full time. For the purchase of a Scent Creator, get 20% off the base cartridges and agreements with MYSCENTCREATOR code.
These cartridges are essential for the creation of your olfactory consultation office. These will be to choose from the cartridges of bases and agreements of 20 ml. Base: €18 - Accord: €24.
Collect the starting kits, including perfume bottles, pumps, labels and perfume strips: €55. We love the 3 vial wood holders: €29, 6 vials: €39: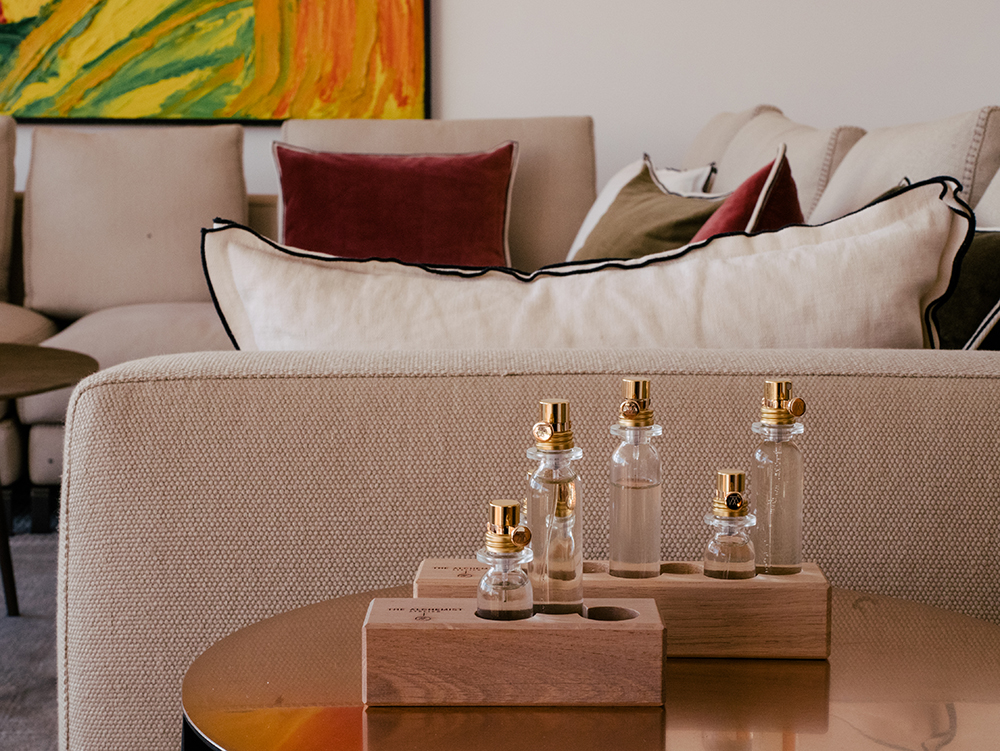 Eshop : www.thealchemistatelier.com
BOOK YOUR ONLINE PRIVATE WORKSHOP
Order your Discovery Kit to discover your own perfume organ composed of 16 bases and 18 accords. It is an olfactory discovery tool with a classification allowing you to feel the facets of your future fragrance at home. Thanks to an Online Perfume Workshop of 1:30 hour available online, discover the secrets of perfumery by discovering the basics, the creative tricks, by exploring the different olfactory families that will make up your totem fragrance. Second, receive your creations in the form of two 5 ml perfumes.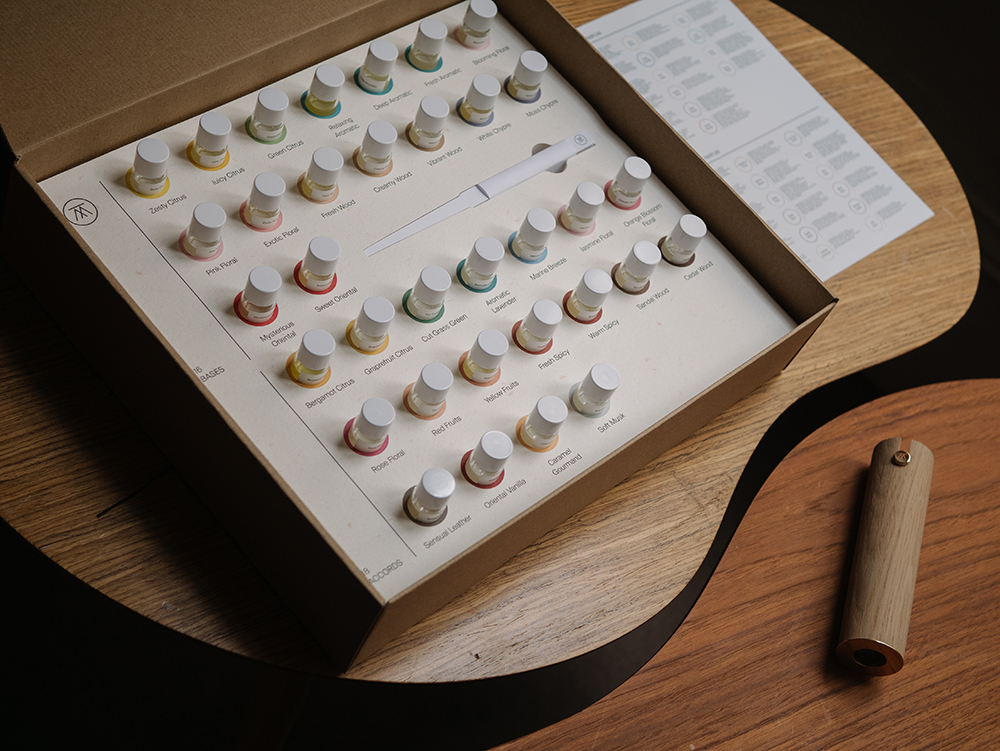 THE ALCHEMIST ATELIER
36, rue Etienne Marcel, 75002 Paris
From Monday to Saturday
Hour : 11.30 AM – 8 PM
contact@thealchemistatelier.com
What about you? Would you be tempted by the experience? Share your thoughts on Instagram...