Questions & selections
What are the trends in bottles for men?
27 may 2014
Shapes, colors, messages: what are the most current trends in terms of bottles for men's scents? Marc Touati, designer and bottle creator, answers that question.
Bottles in the shape of other things are still in, but…
"Gadget bottles," i.e. bottles in the shape of a recognizable object, are generally aimed at a young, trendy clientele that's influenced by hard-hitting TV advertising. The message has to be strong, instantaneous and popular. It may convince you to make a purchase before you've even smelled the scent!
That's the case with Invictus, for example. If you want to be a party-pooper, you could say that the juice plays second fiddle to the bottle. Like 1 Million, it's a product that depends on buzz.
Even if it didn't catch on, Azzaro's Decibel, with its mike-shaped bottle, was another example of this trend. Diesel's Only The Brave and Only the Brave Tattoo, which are both doing very well, are in a similar vein.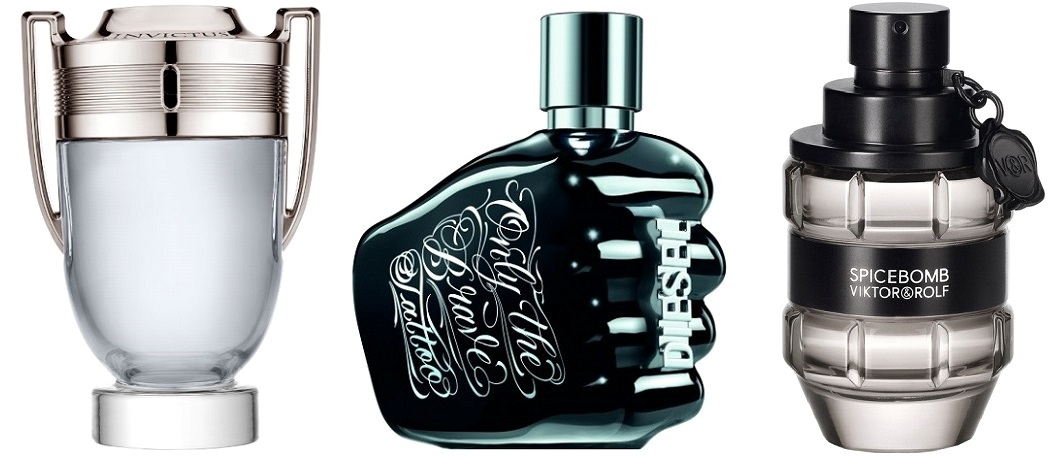 Invictus (Paco Rabanne), Only The Brave Tattoo (Diesel) and Spicebomb (Viktor & Rolf)
As far as bottles in the shape of other things go, Viktor & Rolf's Spicebomb represents an excellent evolution of the trend. Granted, it's a hand grenade, but it still keeps the overall architecture of a fragrance bottle. It has been carefully designed, as has the juice. Très chic.
Just the opposite: more classical, elegant and luxurious bottles
Most men's bottles have a more pared-down look than many women's bottles, which can get away with being more flamboyant. The good thing about classics is that they last a long time, as Guerlain's Habit Rouge and Dior's Eau Sauvage prove.
Azzaro's Chrome has been updated with Chrome United, in an even sleeker bottle than the original. Givenchy's Gentlemen Only and Chevignon's Héritage have also chosen to go with a spare, elegant design. They are classic bottles that follow existing codes. This type of design isn't particularly innovative, but clients do find it reassuring.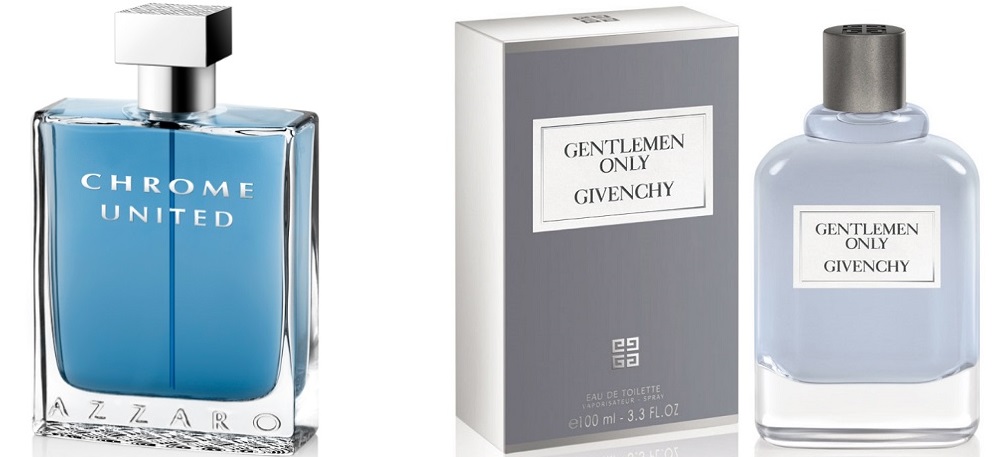 Chrome United (Azzaro) and Gentlemen Only (Givenchy)
The trend towards classicism can also be found in women's scents, perhaps particularly so lately. Take La vie est belle for instance: it's a modernized reinterpretation of an older Lancôme bottle; same thing goes for Guerlain's La petite robe noire: the shape of the bottle is identical to L'Heure Bleue's and Mitsouko's.
The in colors: black and smoky
Black has been in vogue for men for several years now. It has cropped up most recently on the latest Lacoste, L.12.12 Noir; Prada's Luna Rossa Extrême; Lapidus Black Extrême and others.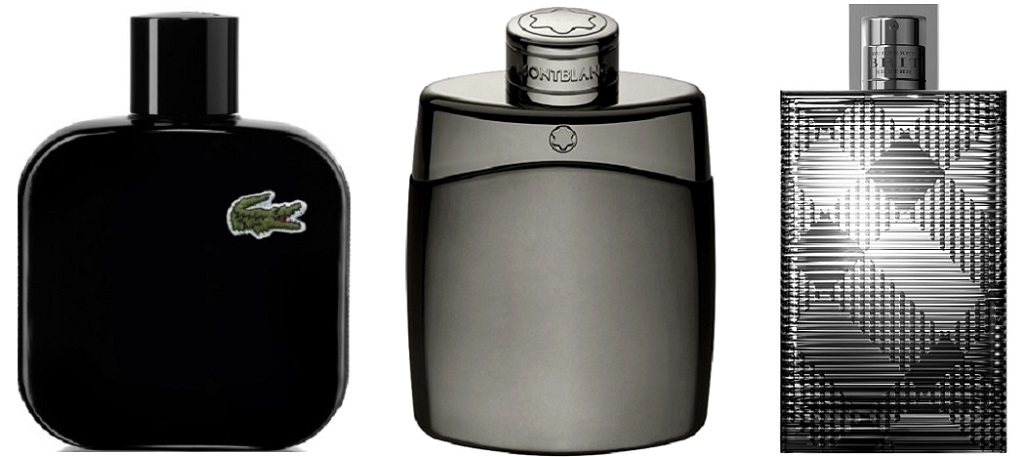 L.12.12 Noir (Lacoste), Legend Intense (Montblanc) and Brit Rhythm (Burberry)
But times change, and smoky glass is starting to come into its own. It's the color of choice for Bottega Veneta pour Homme and Burberry's Brit Rhythm, as well as both Montblanc's Legend Intense and Armani's Eau de Nuit. It can be seen on Tom Ford's unisex scent Tobacco Oud, as well.
With smoky hues, bottles are evolving towards a subtler elegance.
Thumbs up for a men's or unisex bottle
I'm really impressed by Olfactive Studio – not by the bottle, which is extremely simple, in particular – but by the overall concept.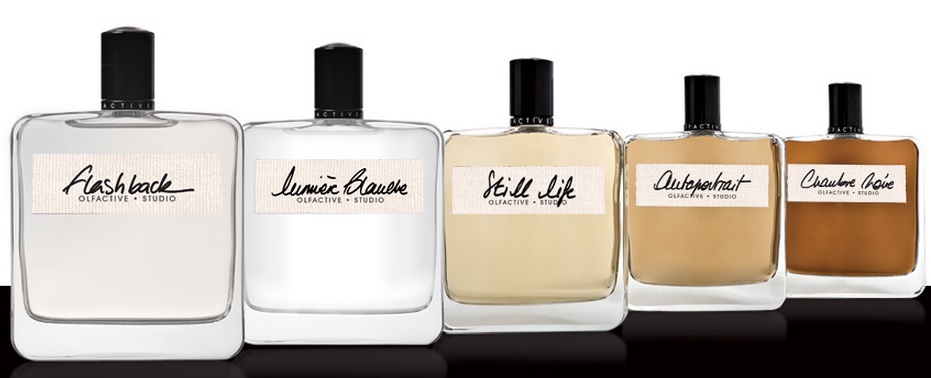 Olfactive Studio collection, unisex scents
Pairing photography and fragrance is the unifying theme that runs through everything the house does.
Supported by that overarching concept, the design of all of the house's elements makes perfect sense.