Questions & selections
What are the Top 10 legendary scents for men?
20 june 2012
Unsurpassed, and unsurpassable, some fragrances never seem to age, but stay firmly entrenched at the top of the best-seller lists… Here are, in my humble opinion, THE 10 legendary scents for men!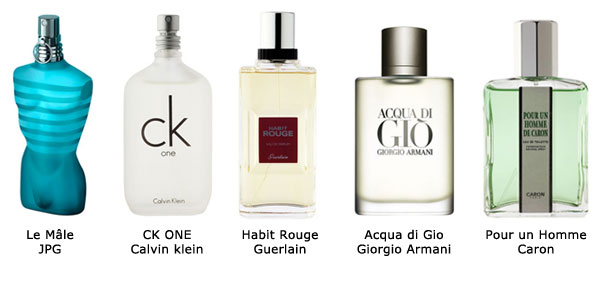 1. Le mâle by Jean Paul Gaultier
The sexy men's scent par excellence. Who hasn't worn it at least once? Its mint notes for freshness and vanilla for sweetness combine with lavender for an ambiguous aspect. An unabashed virility in a muscle-bound torso-shaped bottle inspired by Ancient Greece. Number 1 in men's fragrance sales in Europe in 2003, Le Mâle is a timeless classic.
2. CK One by Calvin Klein
Don't be fooled by its minimalist bottle, CK One definitely belongs on this list of classic scents. The most famous of unisex fragrances, it expresses androgyny with elegance. The cult fragrance of the 90s, its signature notes, like bergamot and green tea, are fresh and discreet. For both him and her, it can be shared the way you share some clothes. Personally, I picture it on a virile, sensual and self-confident man.
3. Habit rouge by Guerlain
Habit Rouge suits a sophisticated and seductive man. To my mind, it projects the image of a perfect gentleman: unpredictable, but attractive to women. Created by Jean Paul Guerlain in 1965, its name pays tribute to horse-back riders' colorful jackets. You could almost call it the masculine equivalent of Shalimar, characterized by a spell-binding blend of woody and oriental notes.

4. Acqua Di Gio by Giorgio Armani
This fragrance was created in 1996 for adventurous mariners. Acqua Di Gio is the fragrance for men who love to drop anchor off the coast of Pantelleria, the Sicilian island where Giorgio Armani goes to relax. Thanks to Calone (a molecule that smells like the seaside, saltwater and oysters), the fragrance calls to mind the freshness of sea spray. For me, it represents male independence and a daring love of risk-taking and great adventures.
5. Pour Un Homme by Caron
A fragrance that the iconic French singer-songwriter Serge Gainsbourg once wore is legendary by definition. Created in 1934 by the Russian perfumer Ernest Daltroff, it has established itself as one of the jewels in the fine French fragrance crown. A spare and elegant bottle that has remained unchanged since the beginning. Considered a timeless classic, I picture it on a man who is old enough to have acquired supreme self-confidence, and who can wear this scent with ease. It carries us off to the Southern Alps thanks to its notes of lavender, vanilla and precious woods.

6. Fahrenheit by Dior
Composed by Jean Louis Sieuzac and Michel Almairac in 1988, Fahrenheit has a revolutionary olfactory signature. Based on woody notes and leather, it was inspired by the work of pop artist James Rosenquist. This legendary scent evokes the fusion of glass and metal. In other words, it is intended for creative men with character. Over twenty years later, it is still unique, thanks to its notes of Sicilian mandarin orange and violet.
7. Kenzo pour homme by Kenzo
Like Acqua Di Gio, Kenzo pour homme is intended for men who want to get away from it all. Fragrance-wise, it is in the woody family, but it stands out thanks to waves of sea air and aquatic notes. Its spicy-vanilla facets grant a nostalgically timeless touch.
8. Cerruti 1881 by Nino Cerruti
Composed in 1990 by Martin Gras, Cerrutti 1881 was made for real men. Virile, muscle-bound, elegant, swarthy and macho… The Italian cliché par excellence. The name refers to the year this Italian couture house was founded. The Cerruti man is up-to-date and self-confident. Green and woody, the fragrance expresses both the strength and the sensuality of the Mediterranean region thanks to notes of bergamot, rose and violet.
9. Chrome by Azzaro
The broad, deep-blue bottle is instantly recognizable. Symbol of the father/son relationship, it incarnates male bonding. With its spicy citrus and musk notes, it is classified as a powerful aromatic. It is usually worn for special occasions, like weddings, or other times of shared joy.
10

. Eau Sauvage by Dior
Eau Sauvage, is the fragrance of another generation – our fathers and grandfathers. To me, it smells like experience. It was the first Dior fragrance composed by Edmond Roudnitska, back in 1966. Fresh yet subtle, it intertwines notes of lemon, rosemary, vetiver and basil, for a comfortingly masculine effect. The latest face of the scent is a young Alain Delon – an actor adored by women and envied by men – in the film La Piscine ("The Swimming Pool").
I haven't the slightest intention of making an official ranking; this list is purely subjective… So what about you, what's on yourlist of legendary men's scents?