OSMOZ magazine
Oriental potions for a cold winter
19 december 2012
In case you haven't noticed yet, it's winter, and that means... cold temperatures ! So, let's have a journey into the Arabian warmth.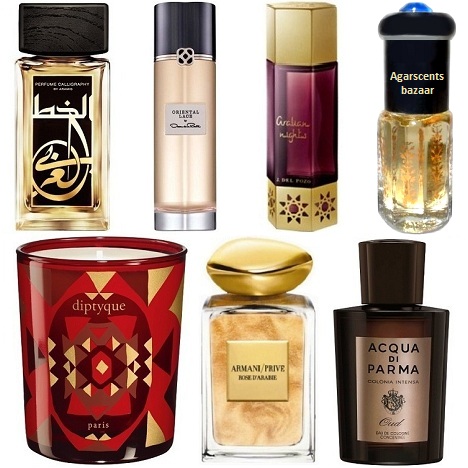 Directly inspired by the Middle East, Perfume Calligraphy by Aramis is a unisex scent which features rose and agar wood (oud wood).
In 2011, Giorgio Armani imagined Rose d'Arabie ('Arabian rose'), an ambery rose with spicy and woody accents. This year, the brand introduces the version 'L'Or du Désert' (desert gold). The juice is enriched with gold glitters that last and shine on the skin.
If you prefer soft oriental perfumes, you should try Oriental Lace from the Essential Luxuries Collection. Oscar de la Renta reveals here a gourmand and warm unisex composition with carnosa flower, honey, cacao and patchouli notes. Perfect to wear during cold days.
Sensual but more exotic, Arabian Nights by J. Del Pozo is a feminine fragrance dedicated to all the lovers of Arabian culture, architecture and aromas. What about the scent ? it's a mix of white flowers, spices, dates, frankincense and amber. A version for men of Arabian Nights also exists.
The very niche brand Agarscentsbazaar created by Sharif Laroche proposes strong Arabian perfumes. For instance, Moroccan Incense, with its spicy floral notes, remembers the souks of Morocco. A warmer scent, Ambergris Royale is 'long lasting and inquisitive' with a blend of opium, iris, chocolate and musk. The brand also proposes fragrance oils, incenses and other natural perfumes.
For a more European vision, the Italian house Acqua di Parma recently launched Colonia Intensa Oud. This luxurious fragrance is a more woody and animalic version of Colonia Intensa.
If you like to perfume your home during winter, Diptyque introduces the limited edition candle 'Amber Oud'. A blend of spices, woods and ambry notes for a subtle and comfortable atmosphere.
This winter, enjoy the 1001 nights…
Which of these Oriental-inspired perfumes would you like to try ?
Read more: Do you know M7 by Yves Saint Laurent ? It's the first designer scent that used an agar wood note ! This fragrance now exists under the name : M7 Oud Absolu.