OSMOZ community
Perfume Portrait #2 : Rosemarie
09 april 2014
- What was your very first perfume?
Lou Lou by Cacharel was my first perfume, I wore it for many years.
- Could you give us your own personal selection: your 5 favorite perfumes?
Narrowing down five from my collection of fifty perfumes will be difficult… I'll say : Ombre Bleue by Jean-Charles Brosseau, Juicy Couture by Juicy Couture, Versace's Yellow Diamonds, Flora by Gucci and Dior's Pure Poison.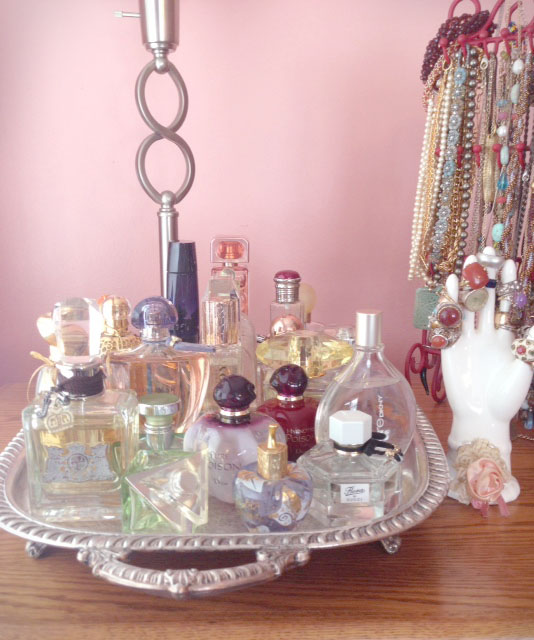 - If you were a perfume, which one would you be?
If I were a perfume for others to wear this year, I would be Lancôme's La Vie Est Belle or Valentina by Valentino.
- What perfume are you wearing now?
Right now I am wearing Curve Chill by Liz Claiborne on my left wrist, and Green Tea Revitalize by Elizabeth Arden on my right wrist.
- Is there a perfume you haven't tried yet but that appeals to you?
I'm definitely excited about Hervé Gambs' debut in perfume : Jardin Privé, Hôtel Particulier, Cœur Couronné. I'd like to try Tom Ford's Plum Japonais, and Bond No. 9 has two fragrances I would put on my Christmas list : Madison Square Park and Central Park South.
- How do you choose your perfume?
When I shop for perfume, I turn into a wolf seeking prey and a chameleon changing colors. Every trip, I try on at least twenty, some of them are men's perfumes. I look for something unique and beautiful.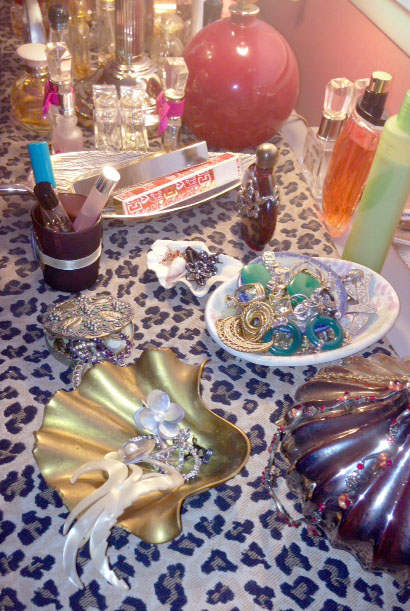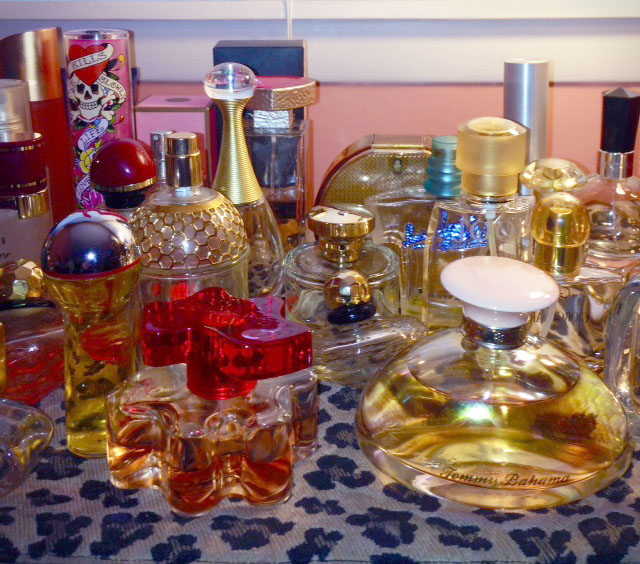 - What is your favourite men's (or unisex) perfume?
My favorite men's perfume (one that I wear) is Pour Monsieur by Pierre Cardin. On men, my favorite is Bleu de Chanel.
- What is your favourite women's (or unisex) perfume?
It is so hard to pick just one. My favorite women's perfume (one that I wear) is Tommy Bahama For Her.
- In your opinion, what is the smell of happiness?
Happy by Clinique, and Poppy by Coach, are the smells of happiness.
- If perfume were an object, what would it be?
If perfume were an object, it would be scented water for seduction. It could also be magic - the art of illusion. Truly, perfume is one's soul.
- If perfume were a book, what would it be?
Perfume is already a book ! It is «Perfumes, The A-Z Guide» by Luca Turin and Tania Sanchez, and «Perfume, The Story Of A Murderer», written by Patrick Süskind.
- If perfume were a song, what would it be?
If perfume were a song, it would be «Every breath you take» by The Police.
- If perfume were a (famous) person, who would it be?
As far as women's fragrance is concerned, it would be Marilyn Monroe. She is the epitome of sex, and years have not diminished her appeal. As for men's perfume, I would say David Beckham. He is incredibly sexy, wearing either just underwear, casual wear, soccer gear or formal attire. Without even trying, he exudes an openness and an appeal that melts my heart.
- What is your most cherished childhood memory connected to smell?
It is playing hide and seek in huge lilac bushes. I was never found ! The wind carried powerful gusts of lilac flowers that enveloped me and I started to daydream. The smell intrigued me, the blooms made me feel so happy, while being "invisible".