The house of Bissoumine issued perfumes
bissoumine signifie parfum en ancien Araméen, une langue en usage au moment de l'histoire où sont nés le monothéisme et les nouvelles idées de morale et d'humanisme. A cette époque les parfums, précieux et rares, étaient empreints de sens culturel, spirituel, sacré. Par ce nom bissoumine, nous nous efforçons de relayer ces valeurs, en créant des parfums riches de cet héritage séculaire, qui suscitent une émotion personnelle, font naître, par des sensations liées à la mémoire olfactive de chacun, un sentiment d'appartenance à la vie, d'être soi-même. Bissoumine et l'art Avec ces mots« un parfum, des sens... » On est dans le monde des émotions, comme tout ce qui touche à l'art… Car la création de parfum est un art à part entière. D'après Baudelaire, « l'art évoque l'univers du rêve, de l'imaginaire, là où l'esprit règne sur le monde et échappe au temps ». Depuis sa création, Bissoumine collabore avec des artistes, que ce soit pour le design des emballages, avec une œuvre originale pour chaque parfum, les carrés de soie, ou bien la communication et l'image de la marque. Mais c'est aussi une ouverture sur le monde de l'art sous toutes ses formes : créer des parfums en relation étroite avec des artistes, peintres, musiciens, poètes, plasticiens, etc… A ce titre, on peut citer « les fleurs de Nall », parfum récemment créé pour le peintre américain Nall. Egalement dans cet esprit, le parfum « Aria sublime »,dédié au célèbre contreténor Andreas Scholl. Une autre expérience innovante : aux côtés des musiciens lors de concerts classiques, où les parfums sont diffusés en relation avec la musique… On établit un lien entre deux sens différents, le nez et l'ouïe, et le public ressent une émotion inattendue… Une expérience inédite !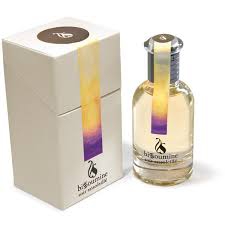 Sorry, there are no results for that search
Explore more fragrances?
Discover launches through a specific brand or olfactory family depending on your preference
Refine the selection